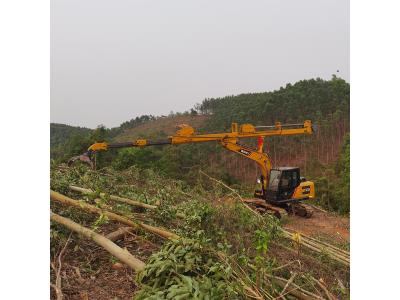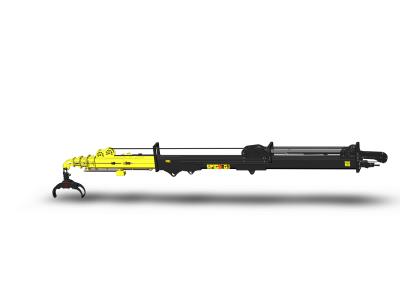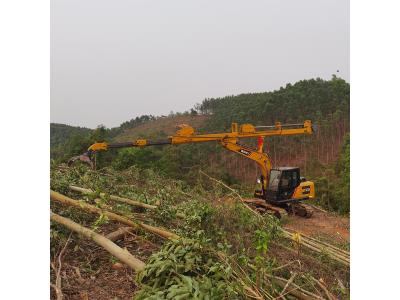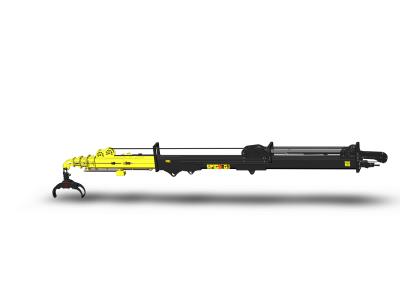 telescopic boom

Recommended by CCCME
Product Details

Company Profile
Economic and energy-saving is the first choice for the professional bundling of forest farms High-strength steel, in the long-distance construction project can resist the bending of the arm barrel, good rebound performance makes the arm barrel more durable, high efficiency of expansion and contraction, with 360 ° rotary fixture, with hoisting and cooperation with the logging machine to pull mountain stacking ability, easy and safe, efficient and flexible operation, mainly used in forestry according to trees, pines, fir trees and other mountain bunching, adapted to mountain forestry operations, mountain pioneering and so on. Highlights and advantage: 1) The telescopic arm comes with a 360° rotating grapple, which has high efficiency and flexibility. 2) The hydraulic cylinder is provided with two-way cushioning to effectively absorb shock vibration. 3) The special wear-resistant block material greatly reduces the wear of the telescopic arm and reduces the number of maintenance. 4) The steel wire rope increases the spring tensioning device to reduce the impact of construction on the steel wire rope and prolong the life of the steel wire rope. 5) The adjustable angle telescopic arm structure is more convenient and flexible than the traditional telescopic arm. 6) Tubing relaxation device to prevent damage caused by long-term construction tubing jumping out. 7) The rotary motor of the pendulum structure, the flexible connection method absorbs the rotary impact. 30% more efficient hydraulic rotary fixture than no rotary grapple The length of the 25-meter telescopic boom covers the operating radius of 20 meters
Economic and energy-saving is the first choice for the professional bundling of forest farms
High-strength steel, in the long-distance construction project can resist the bending of the arm barrel, good rebound performance makes the arm barrel more durable, high efficiency of expansion and contraction, with 360 ° rotary fixture, with hoisting and cooperation with the logging machine to pull mountain stacking ability, easy and safe, efficient and flexible operation, mainly used in forestry according to trees, pines, fir trees and other mountain bunching, adapted to mountain forestry operations, mountain pioneering and so on.
Highlights and advantage:
1) The telescopic arm comes with a 360° rotating grapple, which has high efficiency and flexibility.
2) The hydraulic cylinder is provided with two-way cushioning to effectively absorb shock vibration.
3) The special wear-resistant block material greatly reduces the wear of the telescopic arm and reduces the number of maintenance.
4) The steel wire rope increases the spring tensioning device to reduce the impact of construction on the steel wire rope and prolong the life of the steel wire rope.
5) The adjustable angle telescopic arm structure is more convenient and flexible than the traditional telescopic arm.
6) Tubing relaxation device to prevent damage caused by long-term construction tubing jumping out.
7) The rotary motor of the pendulum structure, the flexible connection method absorbs the rotary impact.
30% more efficient hydraulic rotary fixture than no rotary grapple
The length of the 25-meter telescopic boom covers the operating radius of 20 meters